Embedding Cisco Spark and Location applications (ESRI) into business processes
14:10/14:50
The 'location' or 'positioning', is one of the most valuable and underutilized information for an asset or a physical person. The possibility to extend enhanced collaboration solution, such as Spark, into processes and applications designed around the 'Science of Where' provide an incredible capability to solve industry-relevant problems, not easy or cost-effective to address today. The workshop deals with real-life use cases of Spark enabled solutions for asset tracking and asset protection. You will also learn how to use Cisco Spark to share asset location info within a biz process.
Language: English
Level: Intermediate
Erik Tiengo
Software Solution Architect - NERAtech S.r.l.
Graduated in environmental and land-based engineering (University of Pavia in the beautiful seat of Mantua) for the Italian state and engineer for the rest of Europe thanks to the Master of Science in Environmental Engineering at the University of Aalborg (DK) during the period 1999-2002. Honestly, I prefer to call myself a happy and enthusiastic GIS Developer. GIS knowledge and passion for computer science dates to the Master's Degree in Denmark. Since 2003 I am a freelancer.
Go to speaker's detail
Angelo Fienga
Architect, Mobile Collaboration - Cisco
Angelo joined back Cisco Systems in 2011 as Architect for mobile strategy in the WW Collaboration Sales and Strategy team, looking after the design and evolution of complex solutions for enterprises and service providers. In last few years Angelo has been spearheading the strategy for highly disruptive technologies such as Drones, and the application of Cisco technologies to the rising market of UAVs. In his 20+ years career he worked both in start-ups and in top fortune 500 companies. Angelo owns a M.Sc. in Electronic Engineering from the University in Rome. He is married with two children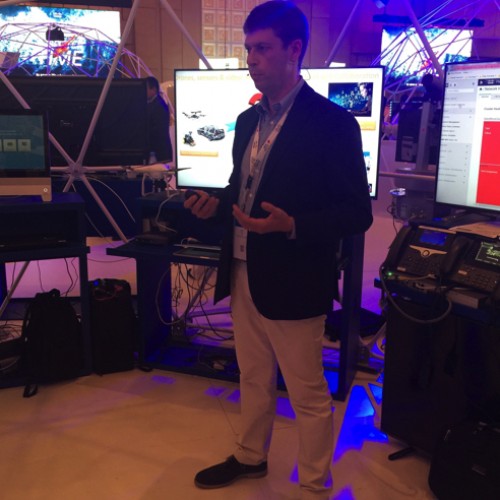 Go to speaker's detail
Claudio Carboni
Evangelist - Esri Italia
A professional life in Geography and Information Technology. Thanks to the experience and profound knowledge gained by leading industry companies such as Esri Italia and Telespazio, he has always had the opportunity to help organizations to solve real problems with the use of geographic contents and geospatial technologies, allow to increase the speed and quality of decision-making, increase the efficiency and effectiveness of both, operating and communication processes. Currently in Esri Italia as Evangelist, promoting the Science of Where, using the comprensive Esri's ArcGIS platform.
Go to speaker's detail